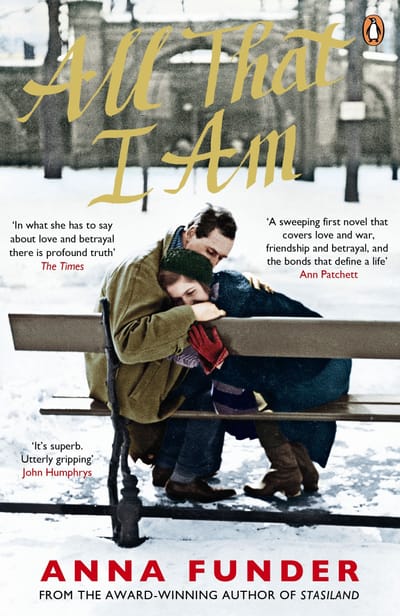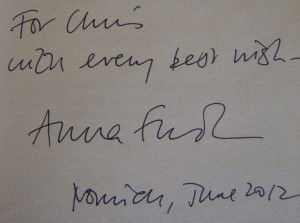 lives, lived in their extremes...

I feel somewhat ambivalent when recognising I'm in the process of reading a masterpiece – and make no mistake, Anna Funder's All That I Am is a masterpiece. The reason for my ambivalence is because, although I'll begin to slow down, take my time with every page, to soak it up, to wallow, call it what you will, the book must still, eventually, come to an end. Just to reiterate: Anna Funder's All That I Am is such a book.

There's my own, personal story behind it, too. A few years ago, I was on the local university campus, Norwich's UEA to be exact, having just attended a 'Fiction in Translation' presentation – it was, indeed, my teacher of German at the UEA who'd recommended her first work, Stasiland, true stories from those who'd worked for the Stasi behind the Berlin wall, and a book for which Anna received great acclaim. Straight after which, with a friend, I called into the campus' Waterstones; we browsed a few of the studied books in translation and so on. In time, I happened to come across Anna Funder's "masterpiece", out on a table. I tapped the book and whispered to my friend: 'She's good!'

'She's standing there, at the counter,' said my friend, muffling a laugh. She meant Anna Funder.

'No time like the present,' I thought: I bought the book and asked her to sign it. And she was lovely about it, as you'd expect.

But what with all the books to read in the world, I'd get round to All That I Am in my own time: two years later.

If I could change anything about the above encounter, I'd have it that I'm already two thirds through the book, and am thus enthralled; the book, then, also happens to be in my pocket. I now bump into Anna Funder, and I tell her what it means to me, and what it will mean to me when signed.

Either way, it means a lot.

The effort to have gone into this work is there for all to see, all is based on mind-blowing fact, what we might call faction. Even so, that's only one thing. For once the information is compiled, the book must then be written; and to be a success, it must pull us in, be compelling. For that, an author must be a writer, too. And, oh, how Anna Funder writes!

I don't want to say too much about the subject matter – please, go and find out for yourselves. What I will say is that it covers love and hate, good and evil, courage and cowardice – life, in other words, or lives, those lived in their extremes, in real, "mind-blowing" circumstances.

It's enough to gain insight into Anna Funder's erudite world. But to add all this to her literary style is something else.

The "masterpiece" lives.

There are three reasons why I will reread this book, with or without its personal signature: a, because, for me, Anna's philosophy of life drips from every other page like amber nectar; I concur with everything she implies – I feel I've find a soul sister; b, it's the kind of book that has you feel that if you do read it again, even when knowing what will be, you might still, somehow, be able to change something; and c, it is just so beautifully written.

Thanks, Anna Funder.